MICROBIOLOGICAL ASSESSMENTS OF "SHAWARMA" A READY TO EAT STREET FOOD IN IGBESA, OGUN STATE, NIGERIA
Abstract
The quality of "sharwama", a ready-to-eat food sold in Igbesa metropolis, Ogun state was assessed for possible
bacterial contamination. Hundred and twenty shawarma samples were obtained from four different sites which
include food service centers and roadside vendors. The samples were prepared and analyzed using standard
procedures. The mean counts of heterotrophic isolates, coliform, Staphylococcus and Salmonella Shigella ranged
from 20 x 104 to 40 x 104
cfu/g, 10 x 103
to 18 x 103
cfu/g, 10 x 104
to 15 x 104
cfu/g and 14 x 103
to 21 x 103
cfu/g
respectively. Eight bacterial genera that include Escherichia coli, Staphylococcus aureus, Pseudomonas aeruginosa,
Klebsiella spp., Enterobacter spp., Shigella spp., Salmonella spp., and Proteus spp. were isolated from the food
samples. The presence of enteric organisms and Staphylococcus aureus in the samples showed a high rate of
contamination which might be as a result of bad food handling practices and faecal contamination from the
processors. Enforcement of sanitary and hygienic measures during processing and packaging of ready-to-eat food
should be done.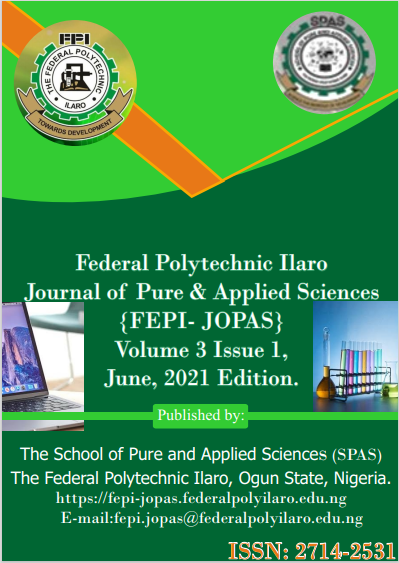 Downloads
How to Cite
W. A, O. ., & K. J., . S. (2021). MICROBIOLOGICAL ASSESSMENTS OF "SHAWARMA" A READY TO EAT STREET FOOD IN IGBESA, OGUN STATE, NIGERIA. Federal Polytechnic Ilaro Journal of Pure And Applied Science, 3(1), 14–21. Retrieved from https://fepi-jopas.federalpolyilaro.edu.ng/index.php/journal/article/view/7