Innovative Technology on Light Traffic Control System.
Abstract
The movement of motorists at junctions could be controlled by traffic light control, which is a form of artificial control
system. Vehicular traffic, which is the movement of vehicles across junctions on the road, could be controlled
effectively using this electronic traffic control system development, for T-junctions, to avert accidents on these
junctions. In developed states, artificial traffic control has been a great success in this part of the world due to their
attitudes to the use of roads. On the part of the developing states, like Nigeria and allied, with their peculiar motorists
such as the on-lookers, wearied, fatigued and slumbered motorists, have made the electronics light control system
ineffective in some cases in relation to its objectives. This work takes care of this inefficiency by designing and
developing a solar powered electronics light traffic system which incorporates an innovative sound system which comes
on the same time with the "READY TO GO" light in the traffic light system, to alert the indiscipline, slumbered,
wearied and on-looker motorists in this peculiar environment in order to allow for smooth running in the traffic system.
The prototype construction of this work finds application at the Federal Polytechnic, Ilaro, Ogun State, Nigeria.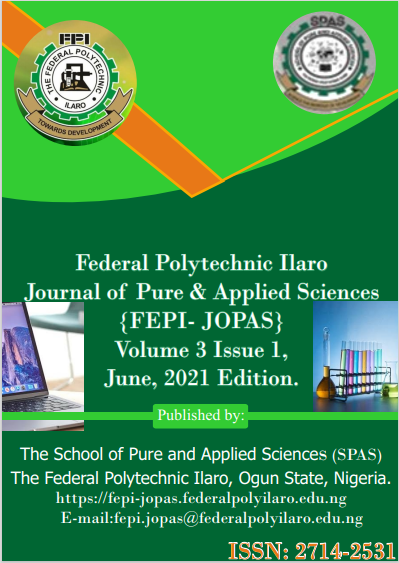 Downloads
How to Cite
E.A., J., & S.A., A. . (2021). Innovative Technology on Light Traffic Control System. Federal Polytechnic Ilaro Journal of Pure And Applied Science, 3(1), 1–7. Retrieved from https://fepi-jopas.federalpolyilaro.edu.ng/index.php/journal/article/view/6
License