Virtual Laboratory: An Alternative Laboratory for Science Teaching and Learning
Abstract
The challenges that face our educational system today can be traced to inadequate funding which is now being
contested by growing demands for education at different levels and in every part of the nation than ever before. Most conspicuous of these accumulated and mounting glitches is the lack of or inadequate learning facilities. This study observed the state of learning resources in our schools most especially the Science and Technology speciality
reminiscence of inadequate funding of laboratory. There is need to provide an education that takes learners beyond
reading and writing to acquisition of skills and attitude development that enable young scholars to learn, unlearn and relearn as the need arises through the provisions of new computer technologies such as virtual laboratory. The study explores reports of empirical studies on the use of virtual laboratory as a viable alternative and complementary mode to the traditional physical laboratory. The conclusion drawn asserts that virtual laboratory is truly capable of providing learners with the learning benefits that accrue from laboratory activities with less cost and risk. This study recommends that proprietors at all levels should embrace this new learning platform to provide a long-lasting remedy to the dearth created in the laboratory skills of our students.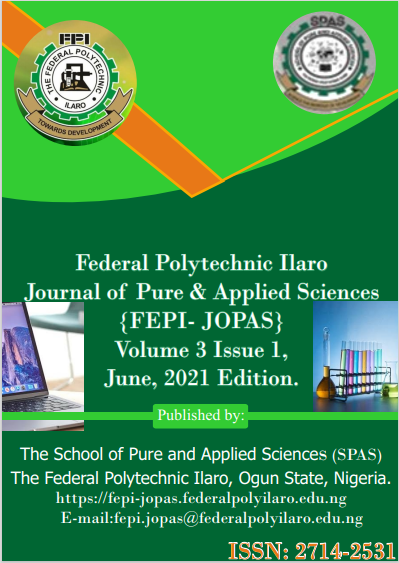 Downloads
How to Cite
A. I., O., & A. F., E. (2021). Virtual Laboratory: An Alternative Laboratory for Science Teaching and Learning. Federal Polytechnic Ilaro Journal of Pure And Applied Science, 3(1), 82–90. Retrieved from https://fepi-jopas.federalpolyilaro.edu.ng/index.php/journal/article/view/16