Green Synthesis of Silver Nanoparticles Using Terminalia catappa Bark Extract and Its Antibacterial Activity
Abstract
In this study, a simple, inexpensive, environmentally friendly and green synthesis was utilised to synthesise silver
nanoparticles (AgNPs) using Terminalia catappa bark extract (TC-AgNPs). The factors which determine the
biosynthesis of these nanoparticles which include, concentration, time and temperature were determined and optimised. However, this study only optimised the effect of time and temperature at a constant concentration of 0.01 M Ag + concentration of extract; 10 g/L (1% w/v). The optimum conditions (time and temperature) for the biosynthesis were; time, 80 minutes and temperature, 60oC. The characterisation of the biosynthesised Terminalia catappa silver nanoparticles (TC-AgNPs) were carried out using UV-Visible (UV-Vis) spectroscopy at a wavelength range of 300 to 800 nm, fourier transform infra-red spectroscopy (FT-IR) and scanning electron microscopy (SEM). The antibacterial activity was investigated against Escherichia coli (E. coli) and Staphylococcus aureus (S. aureus). This study reveals that AgNPs was successfully synthesised from Terminalia catappa and the synthesised AgNPs showed inhibitionagainst the E. coli and S. aureus.
Keywords: Antibacterial activity, green synthesis, silver nanoparticles, Terminalia catappa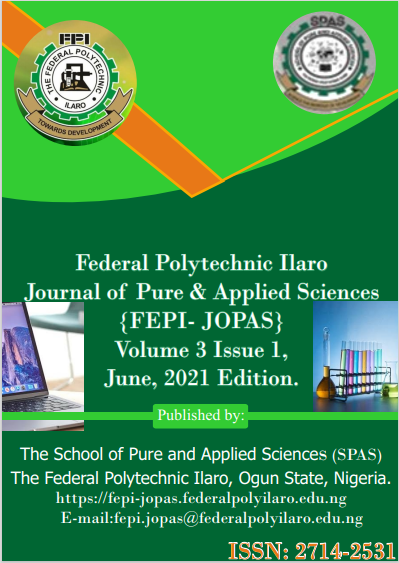 Downloads
How to Cite
C.V., A., & I. A., . O. (2021). Green Synthesis of Silver Nanoparticles Using Terminalia catappa Bark Extract and Its Antibacterial Activity. Federal Polytechnic Ilaro Journal of Pure And Applied Science, 3(1), 38–44. Retrieved from https://fepi-jopas.federalpolyilaro.edu.ng/index.php/journal/article/view/11