Assessment of Heavy Metals in Processed Meat (Tinko) Sold within Igbesa Community
Keywords:
Heavy metals, Tinko, meat, WHO/FAO, permissible limit, processed
Abstract
Meat is a major source of protein, fat and other essential nutrients required for growth and development. Tomeet up with the increasing demand, meat products can be processed and preserved for consumption. This studyassessed the levels of heavy metals (Cd2+, Cr6+, Cu2+, Fe3+, Pb2+, and Zn2+) in processed and preservedmeat("Tinko") sold and consumed in the Igbesa community. Atomic absorption spectrophotometry (AAS) was usedto determine the presence of these metals.The concentrations of Cd2+, Cr6+, Cu2+, Fe3+, Pb2+, and Zn2+ were0.005, 0.223, 1.445, 2.165, 1.018, and 1.669 mg/kg, respectively. Cadmium, chromium and zinc were within thesafe limits of 0.02, 1.50,and 2.00 mg/kg, respectively. While copper, iron and lead exceeded the safe limits of1.00, 2.00, and 0.05 mg/kg, respectively, as established by WHO/FAO. Regular daily intake limits of heavymetals in diets should be monitored and practices that increase the concentrationof metals in the environment should be discouraged.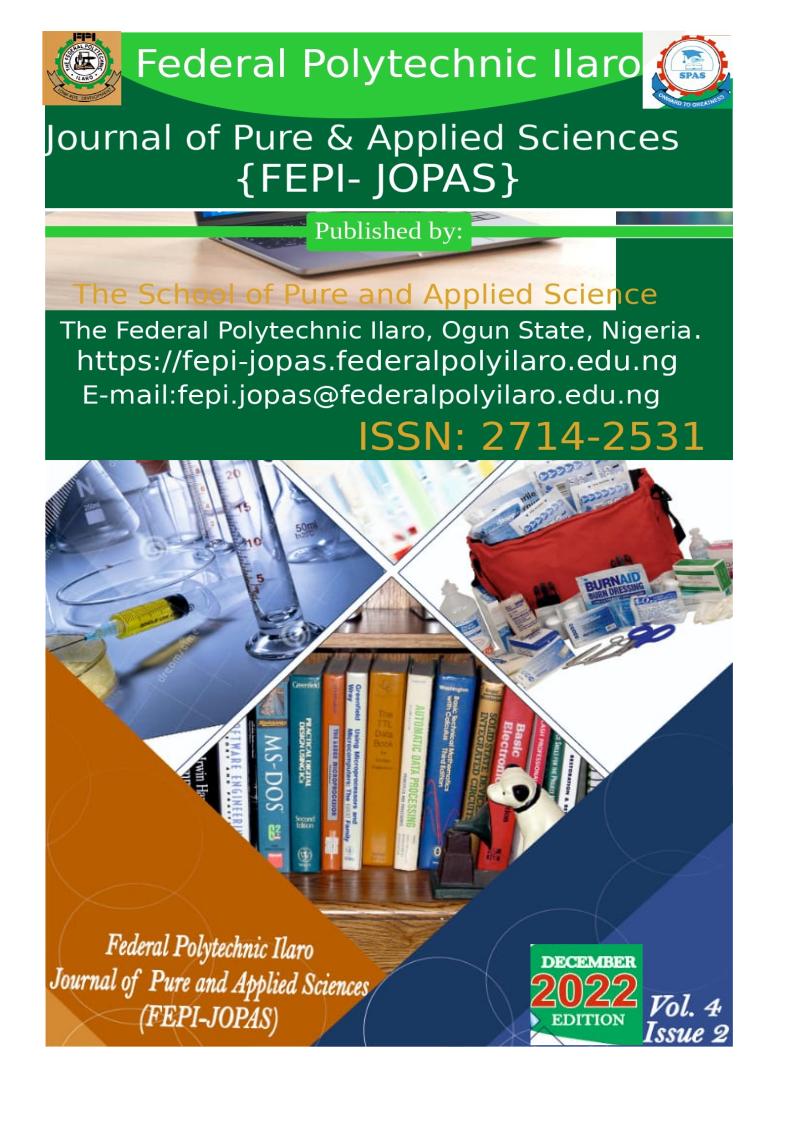 Downloads
How to Cite
F., O., R., A. ., & Y.B, P. (2022). Assessment of Heavy Metals in Processed Meat (Tinko) Sold within Igbesa Community. Federal Polytechnic Ilaro Journal of Pure And Applied Sciences, 4(2), 11–14. Retrieved from https://fepi-jopas.federalpolyilaro.edu.ng/index.php/journal/article/view/77