Effects of Neem Leaves (Azadirachta Indica) And Cassava Peels on the Performance of West African Dware Goat
Keywords:
world population, ruminant animal, nutrient, Cassavas peels, Neem leaves.
Abstract
Ruminant animals like goats are one of the major animals reared by farmers in West Africa. This paper focus on West African dwarf (WAD) sixteen female goats weighing between the range of 5.33-5.37kg were used for the experiment lasted for 56 days, which examined the effects of Neem leaves (Azadirachta indica) and Cassava peel supplements (Manihot Species) on the performance of West African Dwarf Goats. The control diets which contained 100% Neem leaves and the other three diets in which Neem leaves were replaced with Cassava peels at 25%, 50% and 75% levels respectively  which constituted  four treatments. Allocation of four goats each into four treatments groups , in which each group were exposed to different experimental diets. The result obtained showed that the initial bodyweight and final body weight of the experimental animals were not affected by Neem leaves inclusion. Feed intake was significantly affected by Neem leaves intake. Weight loss was recorded for the animals in all the treatment and those on 100% level of Neem inclusion could not survive on Neem alone. The treatments shows that there are no significant difference in the conversion ratio of the feed intake. The digestibility of dry matter was lower in treatment II while it was high in treatment IV and Nitrogen utilization was lower in treatment IV and treatment III has the highest Nitrogen retained value. Hence it is recommended at below 25% levels. In conclusion, WAD Goats cannot survive on Neem leaves alone since the Neem leaves  given to feed  WAD Goats alone resulted into weight loss.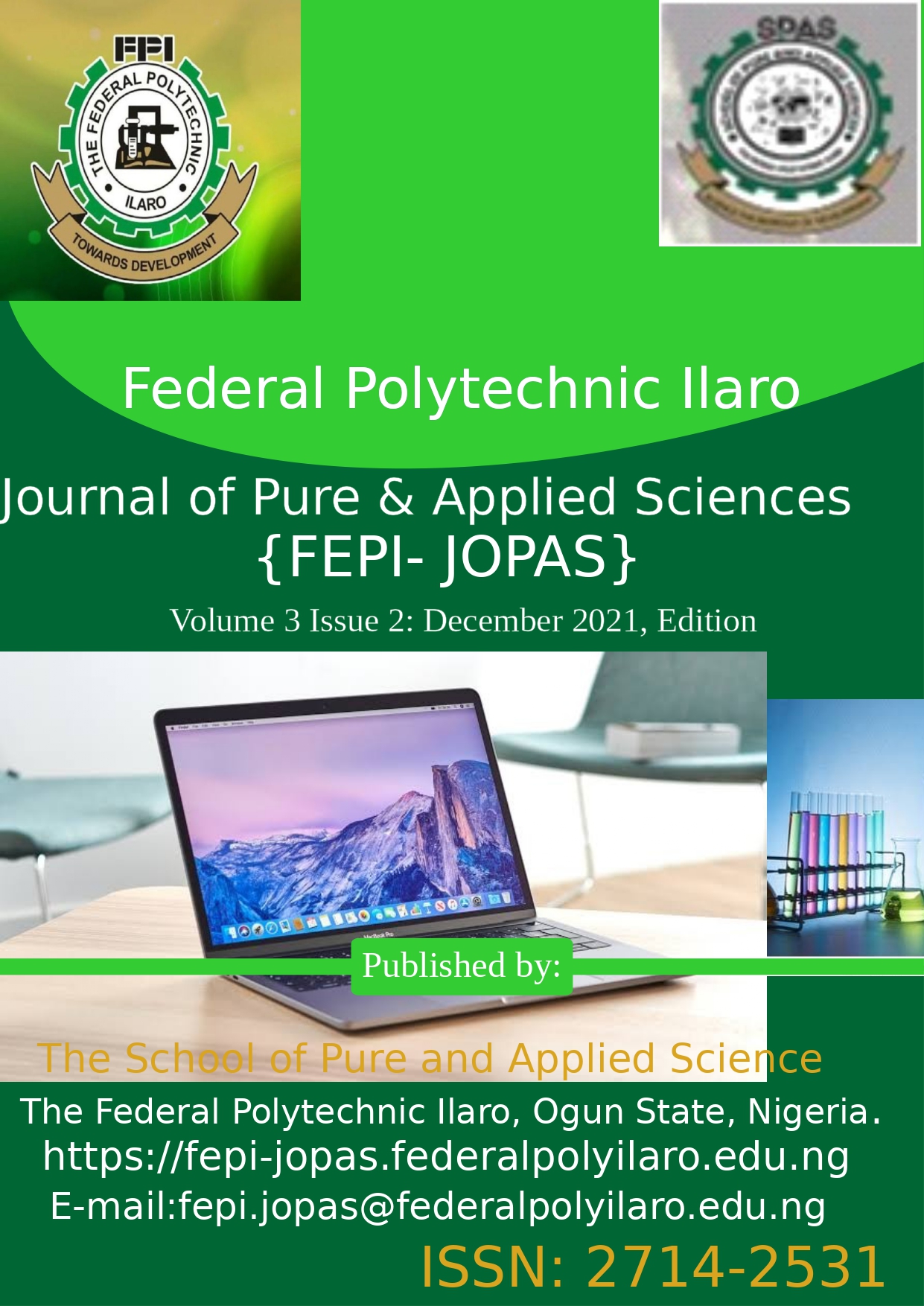 Downloads
How to Cite
Ajeigbe, O. M., Sangosina, M. I., Ogunseitan, T. O., Lawal, R. A., & Yusuff, K. O. (2021). Effects of Neem Leaves (Azadirachta Indica) And Cassava Peels on the Performance of West African Dware Goat. Federal Polytechnic Ilaro Journal of Pure And Applied Sciences, 3(2), 73–79. Retrieved from https://fepi-jopas.federalpolyilaro.edu.ng/index.php/journal/article/view/47