Effect of Aqueous Blend of Three Herbs on Haematobiochemical Indices of Broiler Chicken at Starter Phase
Keywords:
Herbal blends, Broiler, Garlic, Ginger, Scent leaf
Abstract
This research was centered on the effects of aqueous blend of three herbs on hematobiological indices of broiler chickens at the starter phase. Newly hatched Cobb 500 broiler chicks totaling 120 were allotted to 4 groups randomly. The groups namely Treatment 1 serves as the control without aqueous blend, other three treatments received 50 mL of; Scent leaf aqueous blend (SLAB), Ginger aqueous blend (GIAB) and Garlic aqueous blend (GAAB) to 1 litre of drinking water respectively. At 7 and 21 days of the experiment, blood samples were taken for heamatology and biochemical analysis. The observed values of RBC, WBC, Hb, and PCV (red blood cell, white blood cells, packed cell volume and hemoglobin) were significantly different from the control group at p <0.05 with the fourth group having the highest value. It was observed on day 21 that the group fed garlic aqueous blend had levels of AST and ALT reduced than other groups. The low level of AST and ALT means that Garlic has hepatoprotective ability. Garlic aqueous blend group shows significantly high values (p < 0.05) of albumin, total serum protein, and globulin in contrast to other groups. Consequently, all values observed are within the reference range of broiler chicken. This results shows that the aqueous blends can be used at a safety dose 50 mL / liter of drinking water as an alternative to conventional growth promoters.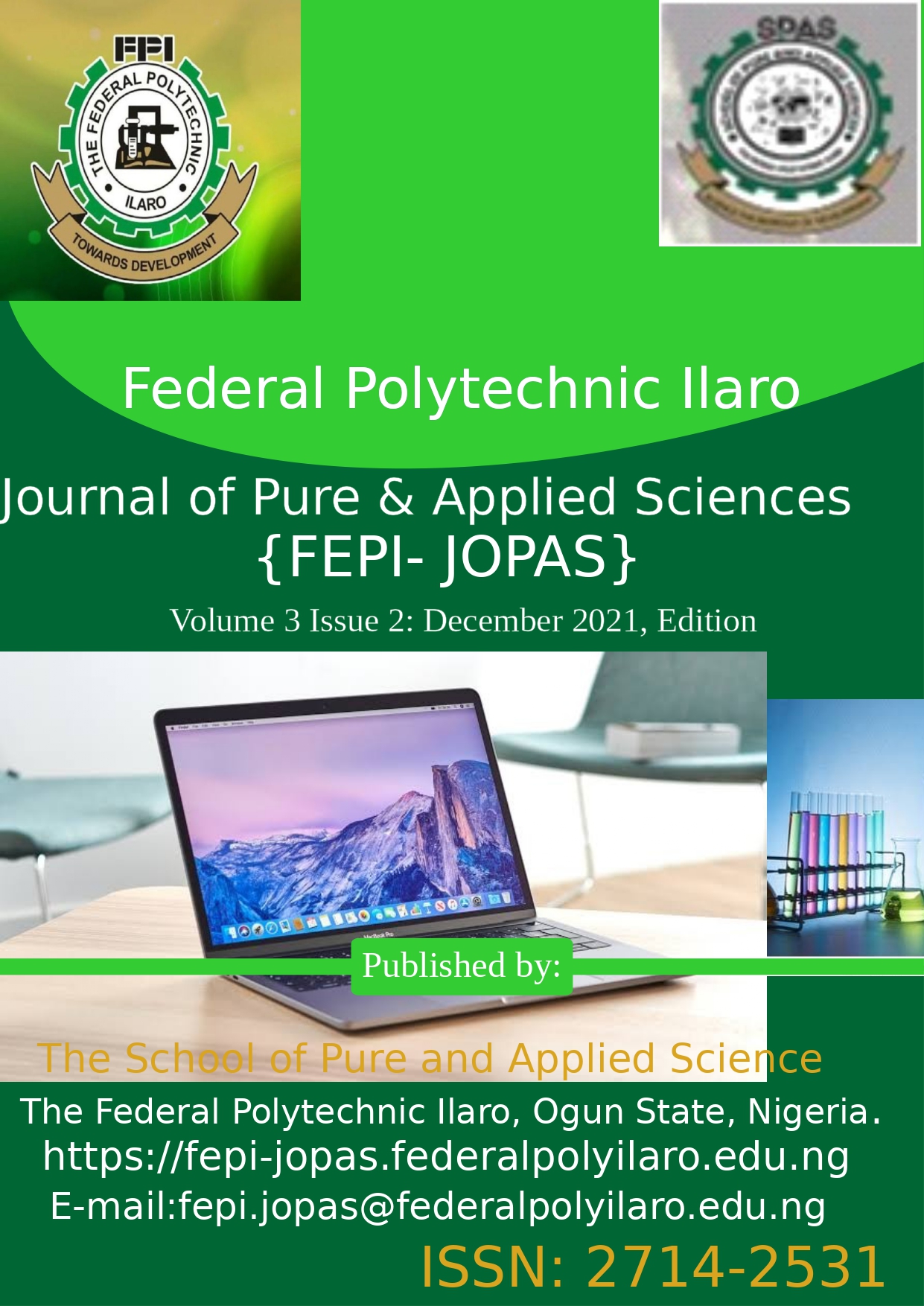 Downloads
How to Cite
Akinlade, O. O., Okusanya, P., & Okparavero, O. (2021). Effect of Aqueous Blend of Three Herbs on Haematobiochemical Indices of Broiler Chicken at Starter Phase. Federal Polytechnic Ilaro Journal of Pure And Applied Science, 3(2), 34–39. Retrieved from https://fepi-jopas.federalpolyilaro.edu.ng/index.php/journal/article/view/42